The greyhounds you will see on this website are just some of the Tucson hounds we are trying to find groups to take in. Most of the dogs are in racing kennels located at Tucson Greyhound Park. We also have a local greyhound pet kennel that brings in brood Mom's and pups, along with their retired racers.

Kennels are notified as to the date we will be at their location for testing and make arrangements to have their dogs brought in. As dogs are picked up by greyhound rescues, the kennels notify us so we can remove those dogs and keep our list current.

| | |
| --- | --- |
| | MARY EXPLAINS TO TONY HOW IMPORTANT IT IS THAT HE LIKES OUR KITTY TINK SO HE WILL BE ABLE TO GET INTO A GROUP FASTER |
Our proceedures for kitty testing differ each time we test. We have different cats that we use depending on the location of testing and the amount of dogs needing to be tested. If the location is secure, the cat is out one on one with the dogs, but if not, our cat is in a large wire crate and the two are introduced. Many of our cats try to rub against the dogs even when they are in the crate.
| | |
| --- | --- |
| | NANCY INTRODUCES ORNERY TRAVELER TO OUR KITTY SASSIE WHO WAS SO COMFORTABLE WITH HIM, SHE KISSED HIS NOSE |
~ UPCOMING HAULS ~

WHEN HAUL DATES ARE SET, THE DESTINATION WILL BE POSTED ALONG WITH THE DATE.

IF YOU WOULD LIKE TO SET UP A HAUL OF HOUNDS FOR YOUR GROUP, YOU MAY CONTACT US BY CLICKING HERE.
| | |
| --- | --- |
| | WHILE WAITING HER TURN TO MEET OUR KITTY COPPER, BELLA BILLIE DECIDES SHE WANTS TO GET UP CLOSE AND PERSONAL WITH MARY JO |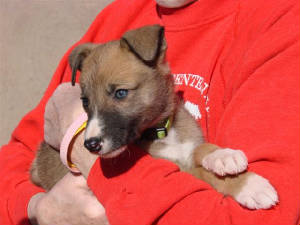 THIS LITTLE GUY CAME IN THIS LAST WINTER AND FOUND A WONDERFUL HOME IN CALIFORNIA WITH 2 OTHER GREYHOUNDS
Our volunteers are not organized under a rescue group but as individuals who will go above and beyond to help wherever needed. The incredible love for this breed has brought us all together in hopes of making a difference with helping these waiting pets find out the true meaning of retirement.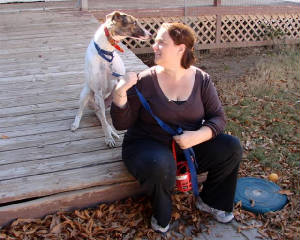 BELLA DOVE (JADE) WAITS WITH JENNY FOR HER TURN TO VISIT WITH THE CAT
~TESTING DATES~

Tucson Greyhound Park

TBD

~~~~~~~~~~~~~~~~

THE WEBSITE IS UPDATED WITHIN 24 HOURS OF TESTING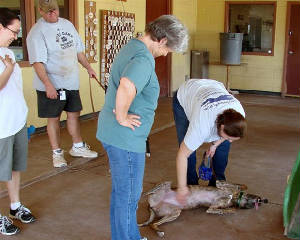 THE TRAINER OF RLM'S DASH TOLD US SHE DID A REALLY CUTE TRICK WHEN YOU SAID HER NAME...HER TRICK...BELLY RUB, BELLY RUB, BELLY RUB!